Mount Rainier
Mount Rainier (14,411'):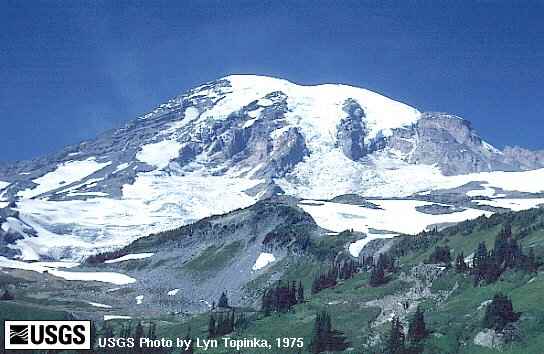 About 10,000 people a year attempt to climb Mount Rainier. Only 50% actually summit and those climbers have trip reports that border on religious experiences.
It's little wonder. The mountain is just a dormant volcano waiting to explode (even if the last major eruption was 2,200 years ago). It is a stratovolcano (or shield volcano, or pyroclastic volcano) which last erupted in 1882. Many photos link it with nearby Mount St. Helens. The mountain has 130 earthquakes a year which are closely monitored in the "Land of Bill."
Right now, the most casualties are associated with avalanches (somebody dies almost every year) -- the best time to climb is late summer to avoid this danger, which is when we're climbing it. An interesting sight, steam still explodes from vents on the peak. Because of this, Rainier is said to create it's own clouds and storms.

I have climbed Rainier only once in 1990 with a buddy of mine named Brian Freie. Although we took one of the most technical routes, we were beginner climbers, we were almost lost in a white out, and I came down with Pneumonia which took me 4 days from which to recover only to immediately climb Mount Hood and drive back to Oklahoma, my experiences on Rainier will always be with me and they will always be exceptional. Rainier is a mountain of superlatives.
The base of the volcano occupies more than 100 square miles.
It is the 5th highest mountain in the lower 48 states (only 83 feet lower than California's Whitney!).
It's massive ice flows and violent winds are so similar to the biggest mountains that it is considered a training ground for McKinley and Everest itself.
Avalanches from the mountain have been known to travel 60 miles!
About 5,700 years ago one of the largest avalanches known in the world occurred with mudflows, floods, and fallout of tephra.
Climbing the mountain generally requires a guide (although experienced climbers make fun of the "chain groups" that climb the summit. But, I will be your guide on our trip. Nevertheless, Indians led the first climbers (Philemon Beecher Van Trump and Hazard Stevens in 1870). They were guided along the lower flanks of the mountain by a Yakama Indian, who reportedly tried to dissuade them from their plans by describing a summit fiery lake. Every good high point deserves a good Indian story. Hehehehehehe

According to trip reports, you should start training at least two months prior to departure, with the best training being extended hiking up and down hills (like at Stone Mountain) with a 40-50 lb backpack. If there are no trails nearby, climb stairs or stadium steps. It is also a good idea to cross-train by running, biking, stair climbing or swimming.

Route Description: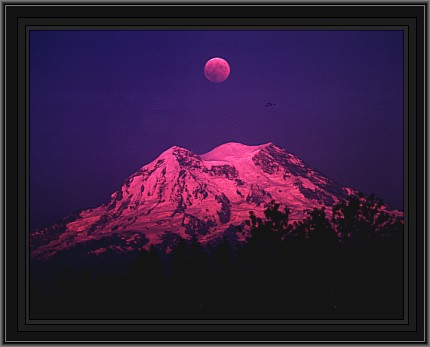 Rainier can be hiked in one day as it's only a 20 or so mile round trip and gains 9000 feet to the summit. However, most people are more cautious and aren't in the physical shape to do it in a single day.
The usual route, the one we're taking, leads up from Paradise Campground (5,280 feet) up the Skyline Trail to Camp Muir at 10,080 feet. Summit bids can be launched in the early pre-dawn hours. It is awe inspiring to see the head lamps headed up the trail from here. Once you reach the summit, you must cross the East crater to the western rim to reach the true summit at Columbia Crest. The summit route from Camp Muir can require over eight hours of climbing. Many (most?) people do not consider it worthwhile to make the hike to actual summit (but I do) even though it is a relatively easy climb after the hike to the summit and it only takes about 40 minutes round trip.
Visit the National Park Service's web site.