Mount Thielsen
Mount Thielsen (9,182'):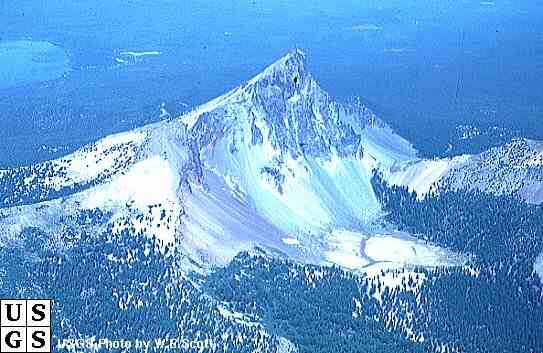 Mount Thielsen is the 7th highest peak in Oregon. It is characterized by a remarkable summit pinnacle. From some angles, the pinnacle looks so slender and sharp that climbing, much less standing on the summit, would be impossible. Because of the height and prominence of the pinnacle, it is often struck by lightning, and has been nicknamed the Lightning Rod of the Cascades.
Mount Thielsen is thought to be similar in age and origin to Mount Washington and Three Fingered Jack. All 3 mountains formed during a period of Cascade volcanism that ended before the last ice age 100,000 years ago. Glaciation and other forms of erosion have significantly reduced each mountain, and in the case of Mount Washington and Mount Thielsen, exposed interior plugs of basaltic andesite. The 80-foot summit pinnacle of Mount Thielsen is part of the andesite plug. It has excellent rock. Rock quality on the rest of the mountain, however, is generally poor.
Regular Route:
Drive to Diamond Lake on State Highway 138. Park in a paved trailhead on the East side of Highway 138, and follow the Mt. Thielsen Trail (USFS 1456) 4 miles to a junction with the PCT. Cross the PCT and continue East up the West Ridge of Thielsen, following a climbers' trail. When you reach timberline, either continue up the West Ridge (third or fourth class), or cut South, and then East up scree and boulder fields. Both routes eventually lead to a notch on the South Ridge, just below the summit pinnacle. Move around to the East side of the pinnacle and scramble up 80 feet of easy rock climbing (5.1). The summit is small, but will accommodate 4-6 people without forcing undue intimacy. Time from trailhead, 3-5 hours.
McLaughlin Memorial Route (about 13 pitches, rated 5.7):
Most of the rock on this climb is solid, but according to the first ascent party there are 2 sections of horrible rock which cannot be protected. The route honors Mark McLaughlin of Eugene. He died on Mt. Mckinley in 1967, when he and his party were trapped by a ferocious storm near the summit.
Drive to Diamond Lake on State Highway 138. At the North end of Diamond Lake, turn West and follow signs to Diamond Lake Resort. Just after the road curves South, turn left into a parking area for Howlock Mt. Trail (USFS 1448). Follow Howlock Mt. Trail about 3.5 miles to where it divides. Turn right and follow Thielsen Creek trail (USFS 1449) about 3.5 miles to the PCT. Cross the PCT and continue South up Thielsen Creek to the base of Lathrop Glacier.
Start on the East side of Lathrop Glacier at the base of the Northeast Buttress. Scramble 200 feet up easy slabs.

Climb up a right facing dihedral for 150 feet (5.6). Belay below a gully. Belay.

Climb to the end of the gully. Climb a crack (5.6) 75 feet to a small ledge. Belay.

Move up and right for 75 feet. Move left and up on slabs to a large belay ledge.

Scramble up easy ground for 75 feet. Traverse 75 feet to a belay ledge.

Climb up and left onto the prow of the Northeast Buttress. Follow the buttress 20 feet, then traverse back 50 feet and climb up to a belay ledge.

The next 3 pitches, climb 75 feet up and right to a lower angle area which holds snow until later Summer. Easy scrambling leads up for several pitches.

About 150 feet of fourth class on the buttress leads to a good belay.

Traverse left and climb a steep knobby wall (5.6 on unstable rock) for 40 feet. Climb up and left into a large gully. Belay.

The next 2 pitches we'll follow the low angle but rotten gully to the regular route. Time from Diamond Lake, 8-10 hours.
Interesting Quotes:
Climbed to the top of …Mt. Tielsen (Thielsen) today. Note: in ascending a difficult peak, mark well how to get down. – John B. Waldo on climbing the summit pinnacle in 1886