Smith Rock
Smith Rock, a 641-acre park, is located in central Oregon. The rock there is welded tuff, consolidated from molten ash 30 million years ago. I like to describe it as tiny pebbles held together by plaster of paris. Along the Crooked River, in the upper and lower gorge, are basalt cliffs as well.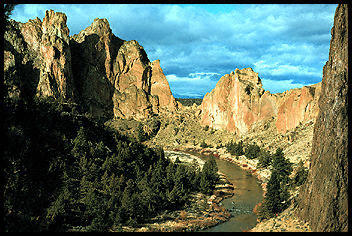 There are over a thousand climbs at Smith Rock, both sport and traditional, up to 600 feet high. Besides having one of the most difficult climbs in the country ('Just Do It' - 5.14c), it also hosts an array of easier and challenging climbs. For example, over 75 three and four star climbs are rated 5.10. Check the routes page for a visual parade through over 200 of Smith Rock's finest climbs.

The best times to visit the park are autumn, spring and winter. You can find yourself sweltering in 90+ degree (Fahrenheit) heat in the summer (check the weather!). The day use fee is currently $4, an annual pass is $25. There is a bivouac area just west of the main parking area (check the map!) where, for a small fee, camp sites are available within walking distance of your vehicle. The bivouac area contains picnic tables, toilets and showers. There is also camping available at Skull Hollow, otherwise known as 'The Grasslands'. Skull Hollow, located about 6 miles east of Smith Rock, is somewhat primitive (it contains only 2 pit toilets.)

The town of Terrebonne offers the Redpoint store for gear, a grocery store for supplies, Java Rock for expresso, the Sunspot and La Siesta for dining out. Redmond, 10 minutes south of Terrebonne, offers more and Bend, 30 minutes away offers still more.