Drive through McKenzie Pass (July 7th)

Some of the youngest volcanic terrain found anywhere in the Cascade Range can be seen in the McKenzie Pass area of west-central Oregon. Above is a panorama visible from Dee Wright Observatory, a small rock tower built to provide travelers with an overlook of the numerous volcanoes and lava flows. The panorama here was shot in late Sept., 1997, and spans about 120 degrees centered roughly in a due north direction, looking subparallel to the axis of Cascade arc volcanism. The bare lava flows in the foreground issued mostly from the Belknap eruptive centers visible in the left side of the image, but lighter lavas on the far right side of the panorama descended from Yapoah cone positioned near Three Sisters volcanoes, several miles behind this view.
Nearly all the named mountains are constructive volcanic cones of various sorts, forming part of the High Cascades, a Quaternary volcanic arc. Notably, about 85% of the lavas erupted here are basalt in composition. A tectonic feature is evidenced in the morphology of Green Ridge, a north-trending normal fault escarpment 1500 ft high, that bounds the eastern side of the High Cascades.
Lavas erupted from Belknap Crater and Little Belknap Shield are likely about 1600-400(?) years old. Lavas immediately surrounding the observation point come from Yapoah cinder cone to the south. Youngest lavas in the area erupted from Collier Cone, a vent located near Yapoah. The Collier lavas have been dated at 400 years age with Carbon 14.
McKenzie Pass is 5324 ft high.
Mt. Jefferson is the highest mountain seen, at 10,497 ft. It is also the furthest north, at 28 miles from the Pass.
Little Belknap shield is the closest named feature at 2 miles distance. It rises 920 feet above its base.
Black Butte is a notably large Pleistocene cinder cone, rising about 1600 ft above its base.
2 days of climbing at Smith Rock (July 7th - 9)
Smith Rock, a 641-acre park, is located in central Oregon. The rock there is welded tuff, consolidated from molten ash 30 million years ago. I like to describe it as tiny pebbles held together by plaster of paris. Along the Crooked River, in the upper and lower gorge, are basalt cliffs as well.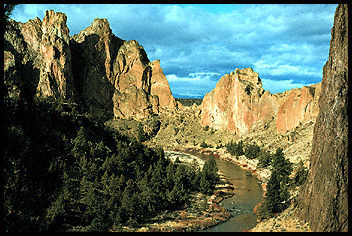 There are over a thousand climbs at Smith Rock, both sport and traditional, up to 600 feet high. Besides having one of the most difficult climbs in the country ('Just Do It' - 5.14c), it also hosts an array of easier and challenging climbs. For example, over 75 three and four star climbs are rated 5.10. Check the routes page for a visual parade through over 200 of Smith Rock's finest climbs.

The best times to visit the park are autumn, spring and winter. You can find yourself sweltering in 90+ degree (Fahrenheit) heat in the summer (check the weather!). The day use fee is currently $4, an annual pass is $25. There is a bivouac area just west of the main parking area (check the map!) where, for a small fee, camp sites are available within walking distance of your vehicle. The bivouac area contains picnic tables, toilets and showers. There is also camping available at Skull Hollow, otherwise known as 'The Grasslands'. Skull Hollow, located about 6 miles east of Smith Rock, is somewhat primitive (it contains only 2 pit toilets.)

The town of Terrebonne offers the Redpoint store for gear, a grocery store for supplies, Java Rock for expresso, the Sunspot and La Siesta for dining out. Redmond, 10 minutes south of Terrebonne, offers more and Bend, 30 minutes away offers still more.


Visit to Crater Lake (July 10)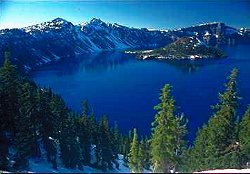 When President Theodore Roosevelt signed the bill on 22 May 1902 for Crater Lake National Park to become nation's fifth oldest park, William Gladstone Steel's dream had become a reality. Steel, the father of Crater Lake National Park, had been preoccupied with Crater Lake since 1870 when he was a sixteen year old boy in Kansas. He learned of Crater Lake by reading a newspaper that was use to wrap his lunch. Two years later he moved to Oregon and in 1885 he and a druggist named John Beck joined a group headed for Crater Lake. When the two men, Steel and Beck finally spotted the lake, the water was so blue it startled them. "All ingenuity of nature seems to have been exerted to the fullest capacity to build a grand awe-inspiring temple the likes of which the world has never seen before," said Steel. His involvement with Crater Lake covered 49 years. After it was made a national park, he realized his work had just begun. Even before then, Crater Lake was the basis of much local Native American legend, as the stories of its creation have been passed down through the centuries. The lake was formed after the collapse of an ancient volcano, posthumously named Mount Mazama. This volcano violently erupted approximately 7,700 years ago. That eruption was 42 times as powerful as the 1980 eruption of Mt. St. Helens. The basin or caldera was formed after the top 5,000 feet of the volcano collapsed. Subsequent lava flows sealed the bottom, allowing the caldera to fill with approximately 4.6 trillion gallons of water from rainfall and snow melt, to create the seventh deepest lake in the world at 1,932 feet.
Rolling mountains, volcanic peaks, and evergreen forests surround this enormous, high Cascade Range lake, recognized worldwide as a scenic wonder. On summer days, neither words or photographs can capture Crater Lake's remarkable blueness. For much of the year--usually October to July at higher elevations--a thick blanket of snow encircles the lake. Snowfall provides most of the park's annual 66 inches of precipitation.
Crater Lake rarely freezes over completely; it last did in 1949. Heat from the summer sun stored in the immense body of water retards ice formation throughout the winter. On the earth clock, natural forces only recently constructed this landscape. Lava flows first formed a high plateau base on which explosive eruptions then built the Cascade volcanoes. Humans probably witnessed the cataclysmic eruption of Mount Mazama about 7,700 years ago.
Shamans in historic time forbade most Indians to view the lake, and Indians said nothing about it to trappers and pioneers, who for 50 years did not find it. Then, in 1853, while searching for the Lost Cabin Gold Mine, some prospectors, including John Wesley Hillman, happened onto Crater Lake. Soundings with piano wire by a U.S. Geological Survey party in 1886 set the lake's depth at 1,996 feet, close to sonar findings of 1,932 feet officially recorded in 1959.
The clean, clear, cold lakewater contained no fish until they were introduced by humans from 1888 to 1941. Today, rainbow trout and kokanee salmon still survive in Crater Lake. Wildflowers bloom late and disappear early here, thriving in wet, open areas. Birds and other animals often seen are ravens, jays, nutcrackers, deer, ground squirrels and chipmunks. Present but seldom seen are elk, black bear, foxes, porcupines, pine martens, chickaree squirrels and pikas.
Facts and Figures:
Crater Lake is the deepest lake in the United States
The second deepest lake in the Western Hemisphere
The seventh deepest lake in the world
Water temp at warmest spot on surface: 34 degrees F
Maximum lake depth: 1932 feet
Average lake depth: 1500 feet
Maximum lake width: 6 miles
Lake surface elevation: 6176 feet
Wizard Island elevation: 6940 feet
Wizard Island height above water: 764 feet
Hillman Peak, highest point on rim: 8151 feet
Mount Scott, highest point in park: 8929 feet
Union Peak: 7709 feet
Rim Village elevation: 7100 feet
Precipitation, yearly average: 66 inches
Snowfall, yearly average: 44 feet
Maximum snow depth at Park Headquarters: 21 feet
Park Size: 183224 acres
Information was provided by the National Park Service.