Diamond Peak, Oregon

Just an hour into the green foothills of the Cascades above Eugene lies an ancient, weathered volcanic peak forming the focal point of the Diamond Peak Wilderness. Nestled between Lane and Klamath Counties, the Diamond Peak Wilderness area offers a multitude of hiking trails, lakes, streams, and of course multiple climbing routes to the summits of 8,744 foot Diamond Peak and its rocky neighbor 7,100 foot Mt. Yoran.

With other popular Cascade wilderness areas facing over use in some areas, Diamond Peak offers nearby opportunities to escape the bustle of the Willamette Valley. The Diamond Peak Wilderness was first established as a Wild Area in 1957 and later reclassified as a Wilderness Area in 1964. Thus it has been maintained as a pristine example of Oregon's ancient forests populated extensively by firs, mountain hemlock and whitebark pines. Within the wilderness deep stands of old growth tower above trail and lake obscuring distant views. This makes the occasional clearing which frames a view of the peak above all the more impressive. Most of the wilderness lies above 6,000 feet elevation allowing deep snows to linger far into the summer months.

There are many points of entry into the Diamond Peak Wilderness depending on your destination and the direction you are traveling from. Coming up from Eugene (off Interstate 5) on Highway 58 along the north side of the area you can choose from multiple parking areas and trail heads at Salt Creek Falls, Gold Lake snow park, Trapper Creek Campground, and Odell Lake Resort. This side of the wilderness is frequented by winter sports enthusiasts including cross country skiers and snowshoers. The eastern boundaries are framed by the pure waters of Odell and Crescent Lakes. Much of the land between these large lakes contains less elevation relief than the western half of the wilderness, but trails do meander around the promontories of Lakeview and Redtop mountains which average about 7,000 feet in elevation.

The southeast access into the wilderness in winter is located at the Crescent Lake snow park, and in summer an excellent scenic trail starts at the Whitefish Horse Camp. This trail passes almost due north for approximately nine miles eventually arriving at Odell Lake and the Trapper Creek Campground. This moderate trek offers a chance to hike and camp deep in the wilderness without too much vertical gain.

From the south side of Diamond Peak you can strike out into one of the most beautiful areas of the wilderness along the Pacific Crest National Scenic Trail. Starting from Summit Lake the PCNST climbs high along the eastern flanks of Diamond Peak offering views of the mountain and other distant scenery. However, be aware that this route passes among many smaller lakes and small ponds which are quite scenic, but which provide breeding grounds for clouds of mosquitoes from mid-spring to early summer. If you aren't fond of mosquito lotion, one way of avoiding this prospect is hiking during the cooler days of early spring or autumn, or try some snow camping.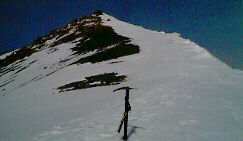 The trail from Summit Lake also offers a route to the summit of Diamond Peak. It is a long day route which tests your conditioning to hike and climb approximately six miles gaining 3,300 feet. The way follows the Pacific Crest Trail about four miles into the wilderness when it intersects with a climbers trail ascending toward the rocky south slopes of the mountain. When snows aren't covering the slopes they become steep beds of fine scree. If you're never climbed a volcanic summit in the Cascades, you might think of scree as coarse volcanic sand. Wearing gators even in summer is advisable to keep this abrasive mix from finding its way into your boots. Gain the south summit and carefully pick your way up the ridge running north up to the true summit on the central peak. The view is indescribable!

On the west side of Diamond Peak you gain access from Forest Service Road 21 which you can find just east of Oakridge at the Hills Creek Dam exit on Highway 58. Most of the thirty miles from there to Summit Lake is paved. The road is not plowed and depending on current weather conditions may be blocked by accumulations of snow above 6,000 feet. In early spring time you can frequently access the mountain from this road turning left at the Pioneer Gulch sign on Road 2149. Travel up an improved gravel road that may hold patches of snow into April or May which could require a four wheel drive to negotiate. There is a trail head sign on road 4646, but the trail soon vanishes and the initial climbing route may be quite vague while you are still down in the deep forest. Use your compass and strike a course of approximately 50 degrees from magnetic north, generally climbing up Pioneer Gulch keeping to the middle of the draw. Eventually you ascend above timberline and from there two main ridges offer access to the summit. The right hand ridge joins the south face route at the lower south summit. This route covers four miles and is much more manageable in early season when deep snows make for a remote alpine experience less than two hours drive from Eugene.

Along the western boundaries of the wilderness various winding Forest Service dirt roads allow access to a half dozen lesser frequented trails which explore several remote lakes including Blue Lake, Corrigan Lake, and Happy Lake. You may not see another hiker during an entire day's treking along many of these western slope trails, but the broad rock and snow profile which Diamond Peak presents from this area makes the route a worth while trip. The hiking trails described in this article are generally in good condition when not obscured by snow pack. The summit routes are considered non-technical, but depending on conditions in early season, equipment such as snow shoes, iceaxe and crampons may be necessary to negotiate the alpine terrain. In addition good physical conditioning is always important to your comfort and safety when traversing the wilderness, and be sure to carry the essentials necessary for survival in the wilderness should the weather change unexpectedly.

One of Diamond Peak Wilderness's best recognized features as seen from Highway 58 is Mt. Yoran. It appears as a distinct eroded rock plug projecting from the northern slopes of Diamond Peak. This spire offers technical rock climbing opportunities after a four mile hike in from the Notch Lake trail off Forest Service Road 23. Mt. Yoran offers a unique perspective of Diamond Peak and the surrounding wilderness.