Mount Hood, Oregon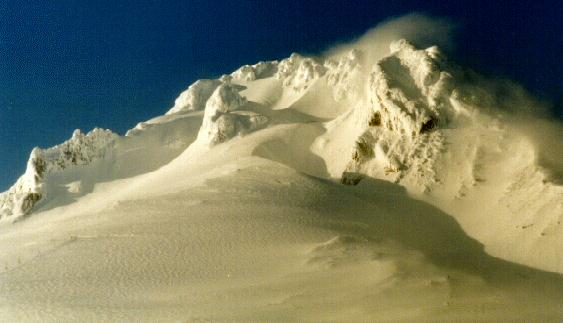 Located at the northen end of the Oregon Cascades, Mt. Hood is the crown jewel of the Oregon alpine summits rising to 11,240 feet. Eleven glaciers carve their path down the steep slopes. One hour away, metropolitan Portland's skyline is dominated by Mt. Hood's presence.
The main route to Hood's summit starts at historic Timberline Lodge located at 6000 feet elevation. Climb along the ski area 900' to Silcox Hut. From there you are at the foot of the flat Palmer Glacier. Continue up following the ski lift to the top. The angle steepens and conditions frequently warrant the use of crampons above 8,500 feet. Climb toward the right hand base of Crater Rock, where you will find Devils Kitchen, a steaming body of fumeroles which often protrudes from the snow as a volcanic dome.
The angle now grows even steeper as you ascend to the Hog Back, a high snow ridge that has migrated back and forth across the face of the mountain through recorded history. At approximately 10,800 feet you come to the Bergschrund, the huge crevase which pulls away from the steep crater head wall as the season progresses. Pass the Bergschrund on the left or right depending on the conditions, and start up the very steepest part of the entire climb. Most climbing parties will want to be roped up during this part of the climb. A fall would almost certainly end in the deep crevase of the the Bergschrund or a hazardous uncontrolled fall to the area of the Devils Kitchen or the Hot Rocks.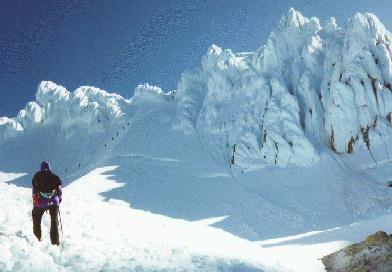 At 10,900 feet you pass upward through a steep gully frequently totally encrusted in rime ice. Above you find the Pearly Gates, which are several rock up thrusts that are normally totally encrusted with wind sculpted columns of crusted rime ice. Just another few hundred feet brings you to the summit ridge at 11,240 feet. Approach the east edge of the summit cautiously. since it is a tremendous snow cornice with a verticle fall off of a thousand feet or more. To the north you can see Mt. Adams, St. Helens and even Mt. Ranier. To the south lie Mt. Jefferson and the Three Sisters. This is one of the best views of the Cascades anywhere.