Mount Thielsen, Oregon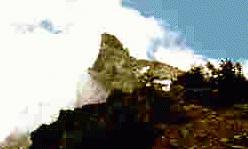 Towering above Diamond Lake rises the rocky spire of Mt. Thielsen. This 9,182 foot eroded volcanic plug is topped by an 80 foot rock pinnacle that has almost 2,000 feet of verticle exposure on the north side. The summit is large enough for just a few people to visit at one time, being so thin from some perspectives that it looks almost impossible to climb, though it is rated as a 5.1 rock climb.

To climb Mt. Thielsen drive east of Roseburg or west from Hwy. 97 on Hwy. 138 to a clearly marked parking area and trail head near the Diamond Lake area. As with many Cascades climbs, the first thousand feet or so winds up a good trail through deep forest that obscures the mountain above. Eventually however you break out above timber line onto a long ridge line that leads to a point where you depart the main trail and begin climbing steeper, less defined skree trails. Here you begin to notice how steep the mountain is becoming, as the narrow slopes converge rapidly toward the pinnacle.

Nearing the last few hundred feet of the climb, the route crosses some very scenic, contorted volcanic rock that is eroded and exposed in strange and fantastic shapes. Here the scree surrenders to the solid lava plug which the summit pinnacle towers from. Crossing several terraces of steeper rock, you finally arrive at the base of the eighty foot tower. The 5.1 pitch can be climbed without protection, but due to the extreme exposure on the northern side, climbers may wish the security of a rope and belay.