Three Fingered Jack, Oregon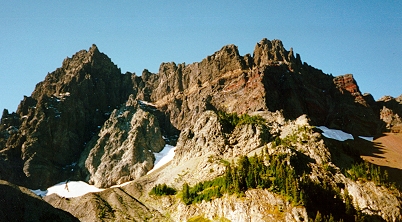 No one seems to know how this mountain was named, but the series of exposed rock pinnacles cresting its summit at 7,841 feet may have been the source. TFJ has one main rock climbing route up the south ridge with two different approaches to the ridge above timberline.
A slightly longer approach starts from a road side parking area trail head just off Highway 20 east of the intersection with Highway 22. This approach offers winter access to the area for cross country skiers, ski mountaineers, and snowshoeing. The route soon joins the Pacific Crest Trail and gives access to the south ridge relatively high up TFJ's forested slopes. In summer and fall most vehicles can make the drive ten miles in on Forest Service roads to the Jack Lake trail head. This scenic trail leads up to Canyon Creek Meadows on the north side of the mountain. From here the route ascends to a notch in the east slopes. A sometimes hazardous traverse must be made to the south crossing a steep scree and talus slope directly below towering cliffs. The traverse brings you to a point on the south ridge above timberline.
From the junction of the two approaches the route ascends the steep south ridge passing several gendarmes on the west side. Finally there comes a point where a large gendarme seems to block further progress. However, there is a precarious slanted ledge to the east of the gendarme nicknamed "the crawl" after the fashion climbers cross the small ledge. Coming off the crawl can be tricky, but from there a couple of pitches of rock climbing bring you to a recessed summit wall. Rope and protection are recommeded along these pitches which have considerable exposure. Rotten rock abounds on TFJ, and other routes up the mountain are not recommended. Each route gains about 3000 feet elevation.